Spinal Decompression in Plano
Lumbar Decompression
Cervical Decompression
Chronic back or neck pain can disrupt your life to the point where all you can think about is finding relief. Spinal Decompression Therapy may be the answer you've been looking for. At
Shippy Chiropractic
, we have developed a program that's helped hundreds of patients get back to living their regular lives.
How Does It Work?
Spinal Decompression Therapy is a safe, non-surgical, and drug free treatment method for patients suffering from chronic neck and back pain caused by disc problems and other spinal related conditions.
This type of motorized traction works by gently stretching the spine to change the force and position of the spine. This change takes pressure off the spinal discs, gel-like cushions between the vertebrae, by creating negative pressure in the disc, allowing the disc to move back into its proper position. Nerve function is enhanced, and blood flow and nutrient exchange improves in the injured area, so the discs can heal.
Can This Help Me?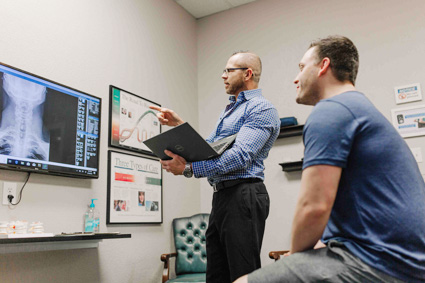 At Shippy Chiropractic in Plano, we offer a comprehensive and tailor-made Spinal Decompression Therapy program to create lasting results for our patients. Before beginning your program, Dr. Shippy will perform a detailed spinal assessment to determine the extent of your disc or spinal injury.
The initial consultation consists of a
Thorough patient history
Neurological examination
Chiropractic examination
Range of motion measurements
X-ray, CT, or MRI analysis
Upon completion of the spinal assessment, Dr. Shippy will advise if you're a suitable candidate for the program. If you're ready to begin treatment, Dr. Shippy will outline your specifically designed care program.
The five components of the program are as follows:
Spinal Decompression Therapy
Our tables are safe and reliable, using the most advanced technology, with different programs to customize care to your needs.
Cold Laser Therapy or Low Level Laser Therapy (LLLT)
It uses specific wavelengths of light to interact with tissue and helps accelerate the healing process. Your cells absorb this light energy, initiating the production of energy needed for the healing process. This increase in intracellular metabolism leads to a reduction in pain, inflammation, swelling, and faster healing.
Chiropractic Care
Chiropractic adjustments complement your spinal decompression program by correcting any mechanical and structural misalignments. The motorized traction targets the problem areas to relieve pressure between the vertebral discs.
Physical Modalities
We may use different therapeutic modalities, such as interferential current, galvanic stimulation, and intersegmental traction, as adjunctive therapies for your condition.
Core Strengthening and Stretching
Besides the spine, the only thing holding the torso and the lower body together are muscles! Core exercises are necessary to remove pressure and strengthen the muscles holding up the spine. Our doctors will prescribe specific exercises and stretches unique to each individual as part of your program.
Conditions That May Benefit
This non-surgical treatment has proven to help with issues arising from
Bulging or herniated discs
Sciatica
Disc degeneration
Facet syndrome
Spondylosis
Pinched nerves
Failed back surgery
Arm/leg pain and numbness
Chronic neck or back pain that is not responding to traditional spinal treatment.
Benefits of the Program
Increases blood and nutrient flow to rehydrate the disc
Decreases pressure between discs
Reduces pain
Improves spinal mobility
Increases joint flexibility
Frequently Asked Questions

It varies from person to person and can be discussed with your chiropractor, but sessions generally last 15 minutes or more.

Do I have to do the therapy more than once?

Ideally, this type of motorized traction is a repetitive therapy. You may have it alongside another service we offer, such as cold laser therapy. Each patient's needs will vary from the next, but we'll be sure to provide you with the care that will bring you the best results possible.

Do I need to wear anything special to my appointment?

No. The therapy is performed while you are fully clothed, and you don't need to wear any particular type of clothing.

Will it hurt?

No. We start extremely gently during your session. As you have more visits, we will increase the level of pressure appropriate for you, but there should be no pain involved.

Are there side effects to having this treatment?

Dr. Shippy likes to tell patients that his mother and father come in for this therapy—then skip out before he even has a chance to see them! Dr. Shippy's family members know it's a good choice; you can feel confident having this type of motorized traction done.

What are the advantages of this modality?

The advantages of the therapy over other forms of treatment are that it's non-invasive, it doesn't involve prescription or OTC medication, and there are little-to-no side effects.

Does insurance cover my visit?

Insurance doesn't typically cover the therapy, though you should check with your carrier to see if your plan does.

Discover the Difference
Serving the Plano community since 1992, Dr. Shippy is knowledgeable about how to help you recover your health. Contact us today to book your consultation and discuss whether you can benefit from spinal decompression.
---
Spinal Decompression Plano TX | (972) 769-9500