Spinal Decompression Plano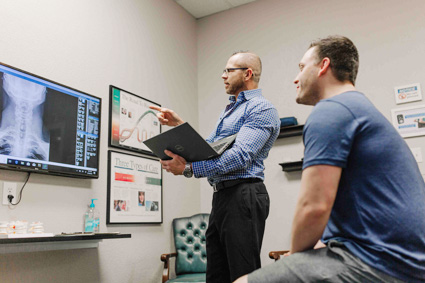 Don't suffer through your pain. Discover a nonsurgical solution to relieving disc-related problems and arthritis at Shippy Chiropractic! We provide spinal decompression therapy using leading-edge technology.
How Spinal Decompression Works
Spinal decompression is a type of motorized traction that may help relieve back pain. Your doctor will place you in a harness, lying face up or down, on a computer-operated table. The doctor will then control the computer to slowly stretch your spine and alleviate pressure on the nerves while you are on the table.
Conditions Appropriate for Spinal Decompression
Anyone with pain from compressed discs might benefit from spinal decompression, which has been known to help those with the following:
Back Pain
Arthritis
Neck Pain
Sciatica
Bulging Discs
BHerniated Discs
Slipped Discs
The decompression addresses joints, discs, and nerves to help alleviate your discomfort. The goal is to provide the right environment for your body to be able to heal itself.
Frequently Asked Questions
How long does a spinal decompression therapy take?
That will vary from person to person and can be discussed with your chiropractor, but sessions generally last 15 minutes or more.
Do I have to do spinal decompression more than once?
Ideally, spinal decompression is a repetitive therapy. You may have it alongside another service we offer, such as cold laser therapy. Each patient's needs will vary from the next, but we'll be sure to provide you with the care that will bring you the best results possible.
Do I need to wear anything special to my spinal decompression appointment?
No. Spinal decompression therapy is performed while you are fully clothed, and you don't need to wear any particular type of clothing.
No. We start extremely gently with your spinal decompression therapy. As you have more visits, we will increase the amount of pressure that is appropriate for you, but there should not be pain involved.
Are there side effects to having this treatment?
Dr. Shippy likes to tell patients that his mother and father come in for spinal decompression therapy-then skip out before they even have a chance to see him! If Dr. Shippy's family members know it's a good choice, you can feel confident having spinal decompression therapy done.
What are the advantages of spinal decompression?
The advantages of spinal decompression over other forms of treatment are that it is non-invasive; it doesn't involve a prescription or over the counter medication and it has little-to-no side effects.
Does insurance cover my visit?
Insurance doesn't typically cover spinal decompression therapy, though you should check with your carrier to see if your plan does.
Discover the Difference
With nearly 30 years in practice, Dr. Shippy is knowledgeable about how to help you recover your health. Contact us today to book your consultation and discuss whether you can benefit from spinal decompression Plano!
---
Spinal Decompression Plano TX | (972) 769-9500