Meet Dr. Shippy
An Unlikely Start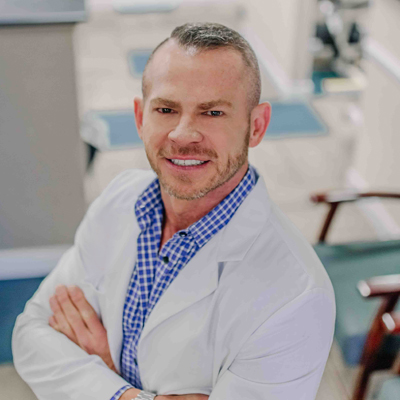 Dr. Shippy was the valedictorian of his class at Texas Chiropractic College where he graduated summa cum laude. However, his entry into the chiropractic field was an unlikely one.
The Shippy family was filled with chiropractic skeptics! Dr. Shippy grew up hearing discouraging words about chiropractors from his mother and father. It never occurred to him to become one…until a college friend referred him to a chiropractor for treatment and Dr. Shippy experienced the benefits of chiropractic firsthand.
Suddenly, helping himself and other people without drugs or surgery was extremely appealing and becoming a chiropractor seemed like a great way to do exactly this.
After researching the best chiropractic schools, Dr. Shippy sat his parents down to reveal his decision to become a chiropractor. Instead of the backlash he was expecting, his mom admitted she'd been secretly getting chiropractic treatment for six months! Thus, Dr. Shippy began his journey.
Unique Training
Dr. Shippy completed medical rotations in local hospitals as a part of his degree from Texas Chiropractic College. This gave him a unique view of the medical side of the healthcare industry. By observing what medications and surgeries other doctors recommended to their patients, Dr. Shippy is now able to communicate and coordinate effectively with other healthcare professionals about your care.
After receiving his chiropractic degree, Dr. Shippy practiced alongside his mentor, a third-generation chiropractor, for six years before opening his own practice.
Dr. Shippy is a member in good standing with both the American Chiropractic Association and the Texas Chiropractic Association.
Outside of The Office
When Dr. Shippy is "off duty" you can find him leading a physically active life for his own health and so he can set an example for his patients. He is an active member in the community and Shippy Chiropractic regularly donates to the Plano Animal Services Department.
Benefit From Years of Experience
Shippy Chiropractic is eager to use our years of knowledge to improve your health. Contact us today to book your first visit with us-we can't wait to welcome you!
CONTACT US
---
Dr. Michael Shippy | (972) 769-9500